News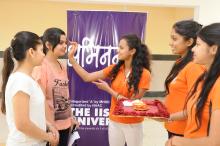 New academic session kicks off at The IIS University with the orientation programme – Abhinandan 2016 held at India International School Auditorium on Friday. The new entrants received warm welcome by their seniors as well as their teachers.
The orientation programme for under graduate...
The founder of The IIS Group and the Vice-Chancellor of The IIS University has recently received Shan-E-Rajasthan award from Governor Mr. Kalyan Singh for his outstanding work towards women empowerment through providing girl education.
A national Channel has recently organized an event...