Governor felicitates Dr. Ashok Gupta for his contribution towards empowering women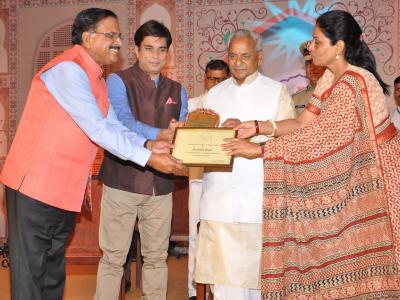 The founder of The IIS Group and the Vice-Chancellor of The IIS University has recently received Shan-E-Rajasthan award from Governor Mr. Kalyan Singh for his outstanding work towards women empowerment through providing girl education.
A national Channel has recently organized an event to felicitate those whose contribution to the society is remarkable. For past two and a half decades Dr. Gupta has been continuously working towards giving a better and brighter future to young girls through providing quality education to them.
It is worth mentioning here that through active indulgence in Rotary, he tries to give his valuable share of contribution towards betterment of society.
While expressing his feeling for the felicitation he said that it's an immense pleasure to receive award from the Governor. "More than 25 years of dedication and hard work paid me off, having said that I still have miles to go in terms of empowering women and surely this award will drive me towards achieving many more successes", he said.