The IIS University welcomes new entrants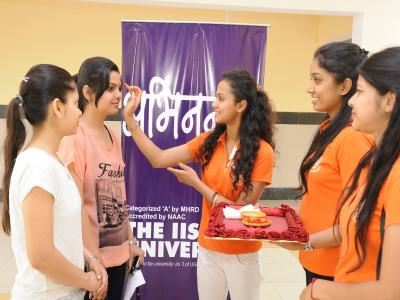 New academic session kicks off at The IIS University with the orientation programme – Abhinandan 2016 held at India International School Auditorium on Friday. The new entrants received warm welcome by their seniors as well as their teachers.
The orientation programme for under graduate students will be continued till Monday. On the first day, students of science and social sciences programmes were oriented while the orientation for UG programmes like B.Com, B.Com professional etc will take place on Thursday. The orientation programme for post graduate students is scheduled on 18th July.
The first session of the orientation programme was conducted for the parents to familiarize them with the aims and objectives of the university. Prof. Sharad Rathore, Chief Protocol Officer, enlightened them with various security components provided by the university for the students at the campus and the techniques through which they can keep a check on their wards about their performance in various academics and other curricular activities at the university.
Later, the orientation programme for the students began with the prayer followed by the welcome speech of Dr. Ashok Gupta, Honorable Vice-Chancellor of The IIS University.
On behalf of the University, Dr. Gupta extended his best wishes and expressed hope that the newly admitted students would bring name and fame to the university with their sincerity, enthusiasm and dedication. He advised the students on wholesome personality development by being active, interactive and participative in academics and co- curricular activities. He has also highlighted the goals, mission and vision of the university.
During the programme, Dr. Roopa Mathur oriented students with systems and operations and do's and don'ts at the university. Controller of Examinations Prof. Nisha Yadav acquainted the students with assessment, evaluation and attendance pattern in the classes.
To acquaint the students with the university, a visit of the campus was organized and a special help desk was also arranged by the staff members to resolve the queries of students as well as their parents.